Guided tour to Galleria Henry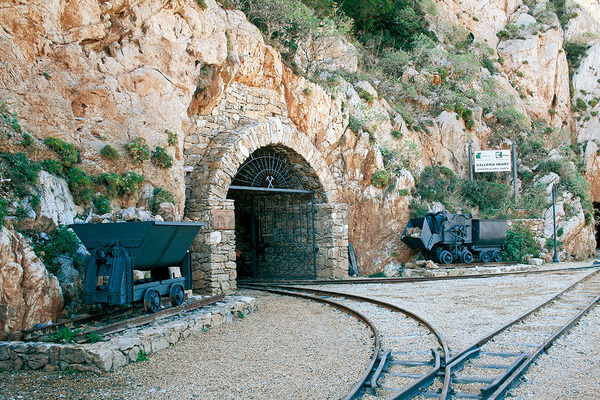 The most important work of the Planu Sartu Mine is undoubtedly the "Galleria Henry". It was mined in 1865 and enabled the transport of minerals by means of a rail from the underground yards to the distant washing plants.
It is situated 50 mt. above sea level, above the built-up area of Buggerru, and crosses for about 1 km the Planu Sartu tableland.

Devi Sapere che
---
You must know that

This tunnel , mined in the rock, is majestic: its dimensions were defined by the use, back in 1892, of a steam-engine. Thanks to an ultramodern railway line, this ingenious system replaced the slow and expensive transport by mules and other pack animals.

Curiosità
---
Curiosities

The gallery is a kind of picturesque labyrinth: it was made secure and provided with signs, so that now it is accessible in absolute safety. Its singularity is determined by the fact that there is a constant connection with the cliff over the sea through smaller galleries and paths carved, like ideal windows, in the rock.
Through these bright openings, which alternate with the underground dark, it is possible to enjoy a picturesque view of the coast falling sheer to the sea and of a stunning panorama.

Come raggiungere il sito
---
How to reach the site

Guided tours are effected by appointment by calling from Monday to Friday, 9.00 a.m. to 1.00 p.m., +39 0781 491300.
For schools and groups a deposit is needed, equivalent to the 30% of the total amount, to effect by transfer in postal c/c n. 14354096 to IGEA SpA – Interventi Geo Ambientali specifying the reason for payment. The demonstration of the payment must be anticipated by fax to +39 0781 491395.
e-mail: segr.dir@igeaspa.it on working days.

FARES:
Adults: E 8.00
Youth (6 to 12): E 4.50
Groups (at least 20 paying adults): E 6.00
Schools: E 4.50
Over65: E 4.50
References
---