Guided tour to Porto Flavia - Masua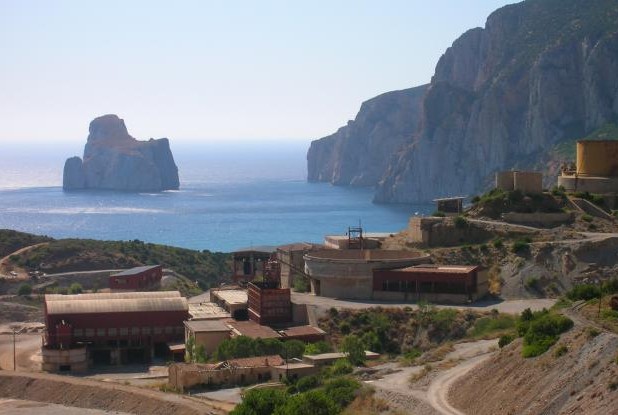 The underground complex of Porto Flavia, realized in 1924 by digging the mountain for about 600 metres, consists of two overlapping galleries and a conveyer belt which received the minerals from the underground depots and then moved them, with an ingenious mechanical arm, to the holds of the cargo boats at anchor.
It was an ingenious solution which revolutionized, in the 1920s, the way of shipping minerals because, until that moment, they were carried in containers which were then loaded, by men from Carloforte called "galanze", on their back, on their sailing boats of 25 tons.

Devi Sapere che
---
You must know that

Porto Flavia, placed near Masua (Iglesias), overlooks the south-west coast of Sardinia. Its curious name, related to the name of its design engineer's eldest daughter, suggests the existence of a port suspended in mid-air. This attraction can be reached by walking along a 600-metre- long gallery.

Curiosità
---
Curiosities
The tunnel, entirely mined in the rock, comes out over a cliff which, provided with proper protective barriers, gives a stunning view over an area to discover. Here you can look at the peculiar port, suspended between the sea and the sky, on a rock face where the sign "Porto Flavia" stands out and from which you can admire the beautiful rock called Pan di Zucchero.

Come raggiungere il sito
---
How to reach the site

This engineering jewel can be reached from the car park near the beach of Masua: you can go on foot or by car, passing along the old railway lines, up to the entrance to the tunnel.

Guided tours are effected by appointment by calling from Monday to Friday, 9.00 a.m. to 1.00 p.m., +39 0781 491300.
For schools and groups a deposit is needed, equivalent to the 30% of the total amount, to effect by transfer in postal c/c n. 14354096 to IGEA SpA – Interventi Geo Ambientali specifying the reason for payment. The demonstration of the payment must be anticipated by fax to +39 0781 491395.

e-mail: segr.dir@igeaspa.it on working days.

FARES:
Adults: E 8.00
Youth (6 to 12): E 4.50
Groups (at least 20 paying adults): E 6.00
Schools: E 4.50
Over 65: E 4.50
References
---